I, like others, was approached via email about signing up for a new service that aggregates content and pays you a commission for the ads they show on your content.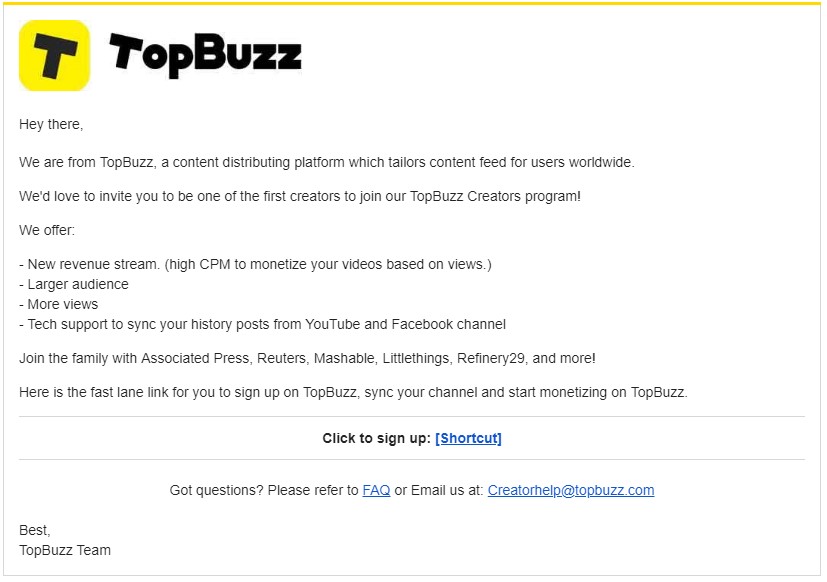 I figured, "what could it hurt?" So I signed up and imported 2 YouTube accounts.
Immediately I saw a decent-sized return almost immediately so I let it sit and let it keep importing any content I uploaded to YouTube. After a while, though, I noticed that my revenue was crawling and I was averaging about $0.005 (that's HALF a cent) per day.
After doing some math, I realized it would take me approximately 416.75 months or 34.73 YEARS to get paid by them. My current earnings are $33.32 because I had a huge bump when I imported 2 YouTube channels into the system. Even with the number of posts I had on the site, I was averaging $0.16 per month in revenue from them.
As it turns out, TopBuzz won't let you delete your account once you realized that you'll most likely never be able to cash out on your advertising earnings.
The only option in the admin area of the site is to "deactivate" your account, but that leaves your content on their servers and lets them use your content however they want. There is no "delete account" option.
Several others have written blog posts about TopBuzz and the way they treat people who create content on here, so I decided to look into this account deletion thing and you can't delete your account.
Since I couldn't delete my account, and their responses on Twitter don't exist, I decided to just delete all my content instead. This was tricky and time consuming as I had multiple accounts setup to sync to the TopBuzz site. There's not "select all" option when dealing with content management in their creator area, either. You have to hover over each article, click "Delete" and then click the "Confirm Delete" pop up. I had to do this HUNDREDS of times to remove everything I could.
I removed all but one of my articles because TopBuzz won't let me delete it.
Normally there are 2 options when you hover over an article in the admin. There's an "Edit" and a "Delete". Notice how there's no "Edit" button here:

That's fine, though, since I just want to delete the post. I click the "Delete" text and this pops up as expected:
Seems like we're heading in the right direction. Until I hit the yellow "Delete" button, that is:
I receive that same response EVERY time I try to delete the article.
They won't let me delete this article for some reason. I've reached out to them on Twitter and have, at this point, heard nothing back from them on any of this.
I've had to resort to filing a copyright strike on my own article to have them (hopefully) remove it.

The claim is still under review, but I imagine that they will ignore it. I say that because I tried to share the post you're reading right now, but, despite showing in my admin area, and I can read it while I'm logged in, it's not showing up if I'm not logged in and even returns a 404 error: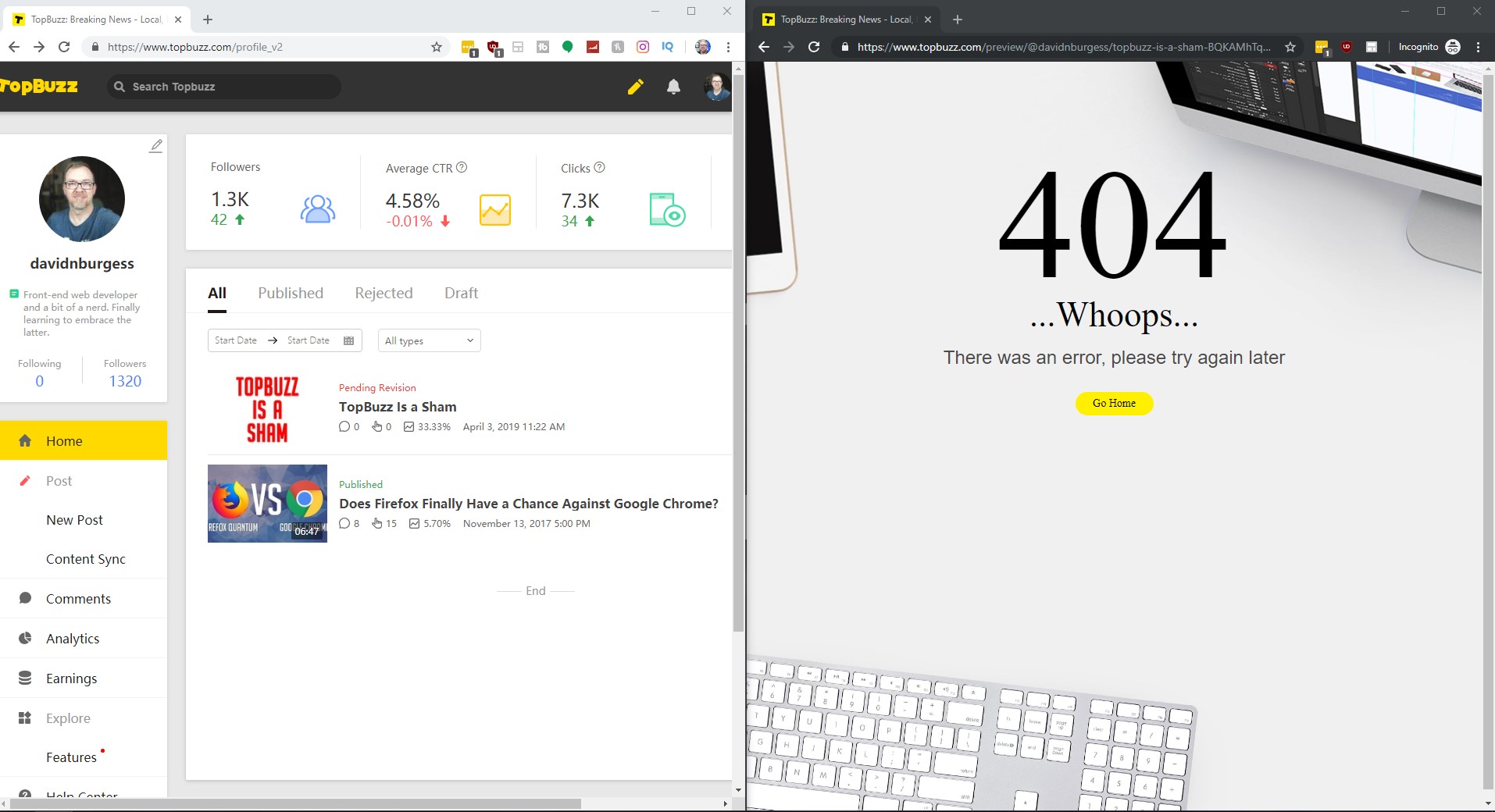 I'm not the only one who has had this complaint. There are other bloggers who have posted similar stories and I encourage you to find them and read them as well. I would advise against signing up with them as they have no customer service and they make it nearly impossible to escape from their ecosphere once you're in.