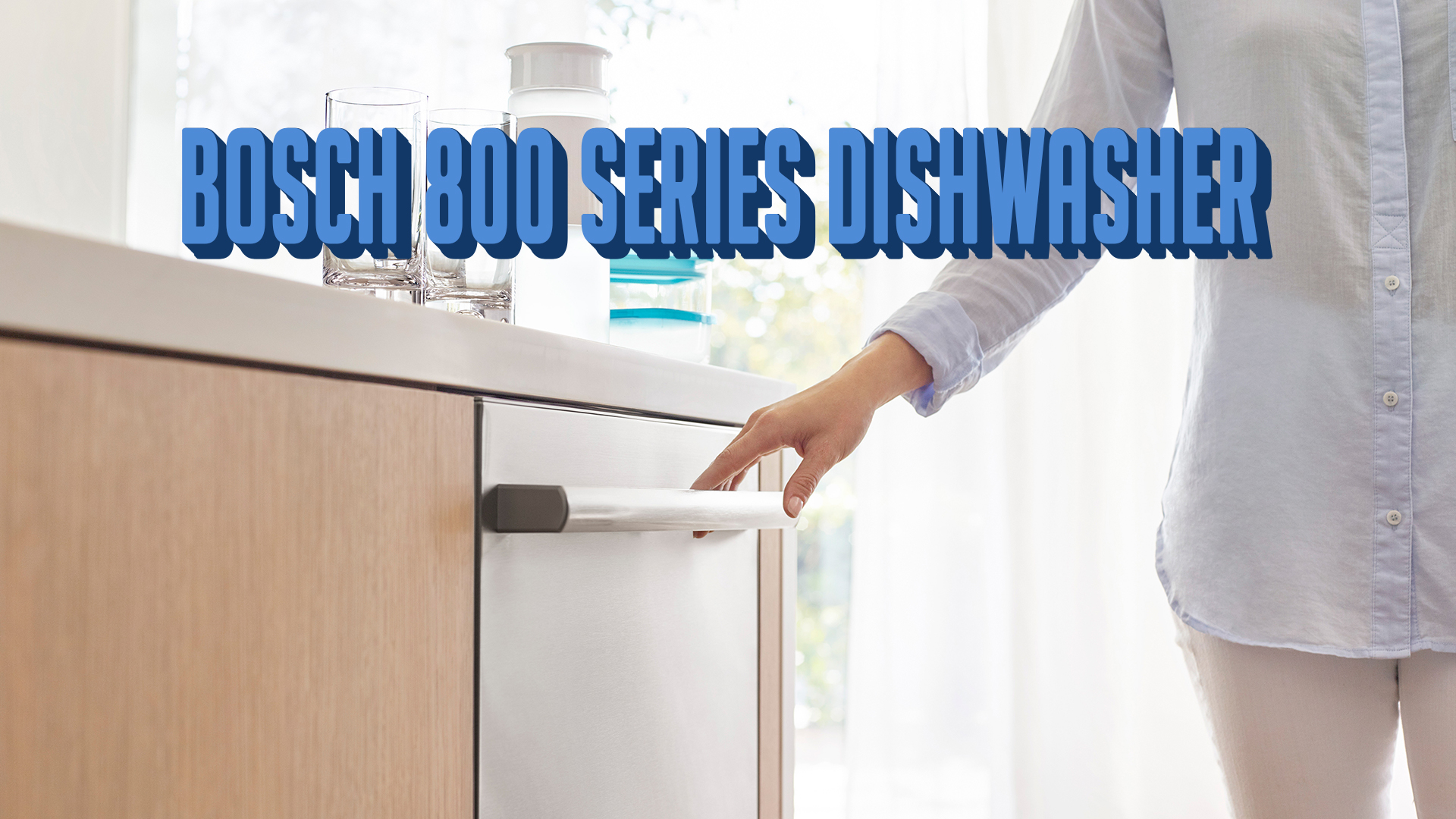 The Bosch 800 Series dishwasher is where elegance and functionality meet in silence. The front of the 800 Series is sleek and smooth minus the handle to open the dishwasher. All of the controls are hidden on the top of the door and out of the way. To keep with the stealthy features of the 800 Series has a 42-dBA noise level rating making it the quietest dishwasher brand in the U.S.
Features
When you don't have a full load of dishes.
The "Half Load" option reduces cycle time and water consumption so you conserve water when you only need to wash small, lightly soiled loads that fill less than half of the dishwasher's capacity.
Flexible 3rd rack
A large interior provides the loading flexibility to easily accommodate 16 place settings, and Bosch's largest 3rd rack- the MyWay rack provides additional loading space for cereal bowls and large utensils. Accommodate the odd one out. Adding the 3rd rack with its adjustable tines can create the right fit for deep, tall, or uniquely-shaped items.
With 30% more loading area*, the 3rd rack provides extra space for flatware, large utensils and measuring cups. Its V shape leaves room below for tall items.
*Compared to a Bosch dishwasher with 2 racks
RackMatic™ Adjustable Upper Rack
The RackMatic middle rack easily adjusts to three different heights and up to 9 separate rack positions, allowing taller items like stemware to fit in the middle rack while leaving room for pots and pans below.
EasyGlide™ rack
Load and unload smoothly and easily. Even while they're full of dishes, it's easy to adjust and move the racks to make room for everything.
Glass Cycle
The Glass Cycle protects your delicate glassware by using lower temperatures and less water. The Glass Cycle is a more energy and water-efficient way to keep your glasses clean!
24" width
There's room for up to 16 place settings. Plus, choose from 6 wash cycles including five-level wash, 5 options like Extra Dry, and a concealed heating element.
24/7 Aquastop®
Protect your floors and your peace of mind. The Bosch 800 Series has a 4-part leak prevention system that uses sensors to detect and stop leaks.
42-dBA noise level rating
Wash dishes in peace. Bosch dishwashers are so quiet, you have to check the exterior Infolight® to know they're on. This is the quietest dishwasher brand in the U.S.
InfoLight® -a light that tells you when your dishwasher is running
InfoLight® projects a red light onto the floor during the wash cycle so you know when your dishwasher is running. The light turns off when dishes are ready.
Touch Control
Program a cycle quickly. The integrated controls make it easy with simple touch technology. Also, the button controls are kept out of the way by being placed on the top of the door. This makes for a clean look and makes using the 800 Series even easier to use.
Eco Cycle
Best for delicate dishes and glasses, the Eco cycle decreases energy usage by lowering temperature and cycle length.
Sanitize Option
The Sanitize Option operates at a higher temperature and can be selected to achieve the National Sanitation Foundation (NSF) standards of cleanliness, eliminating 99.9% of bacteria, and enhances your drying results as well.
ExtraShine Option
Used in combination with a wash cycle (except Rinse),the Extra Shine option helps dishes and glassware come out exceptionally clean with perfect shine by raising the temperature and extending the drying time.
A Better Kind of Dry
Used in combination with a wash cycle, the Extra Dry option raises the temperature and extends the drying time to further enhance drying results. CrystalDry™ (only available in 800 Series) | The ultimate clean. The ultimate dry, including plastics.
Patented CrystalDry™ technology delivers 60% better drying results.*
More Information
Learn more here: https://bby.me/9ay24
Disclaimer
*Based on aggregate average drying performance of Bosch Dishwashers with CrystalDry on combined household load including plastics, glass, steel, and porcelain as compared to Bosch Dishwashers with PureDry.  Drying performance may vary by dish type.
This is a sponsored post brought to you by Best Buy.