Thanks to System76 for giving me the chance to check out one of their Adder WS (workstation) laptops for the past few week.
In a previous video I talked about the laptop and went over the specs: https://dbtechreviews.com/2019/11/system76-adder-ws-laptop-review/
The scope of this video is to show what it's like to run Windows 10 on an Adder WS and stress test it a bit with a game like WatchDogs 2 and a program like 3D Mark.
Adder WS Gaming
Running WatchDogs 2 at 4k Ultra settings was buttery smooth and it managed to maintain 40-60fps. No lag or stutters at all. I experienced the same when stressing the machine with 3D Mark. What I can say, though, is that they BOTH really pushed the fans all the way to their limits and, boy do they get loud!
Putting on some good sound-isolating headphones does the trick to make you forget about the fans, though.
Adder WS Stress Testing
The score that I was able to get on 3D Mark without doing any overclocking or anything like that was 7353, which is pretty good when you remember that it's a workstation laptop! Here's the score card from 3d Mark: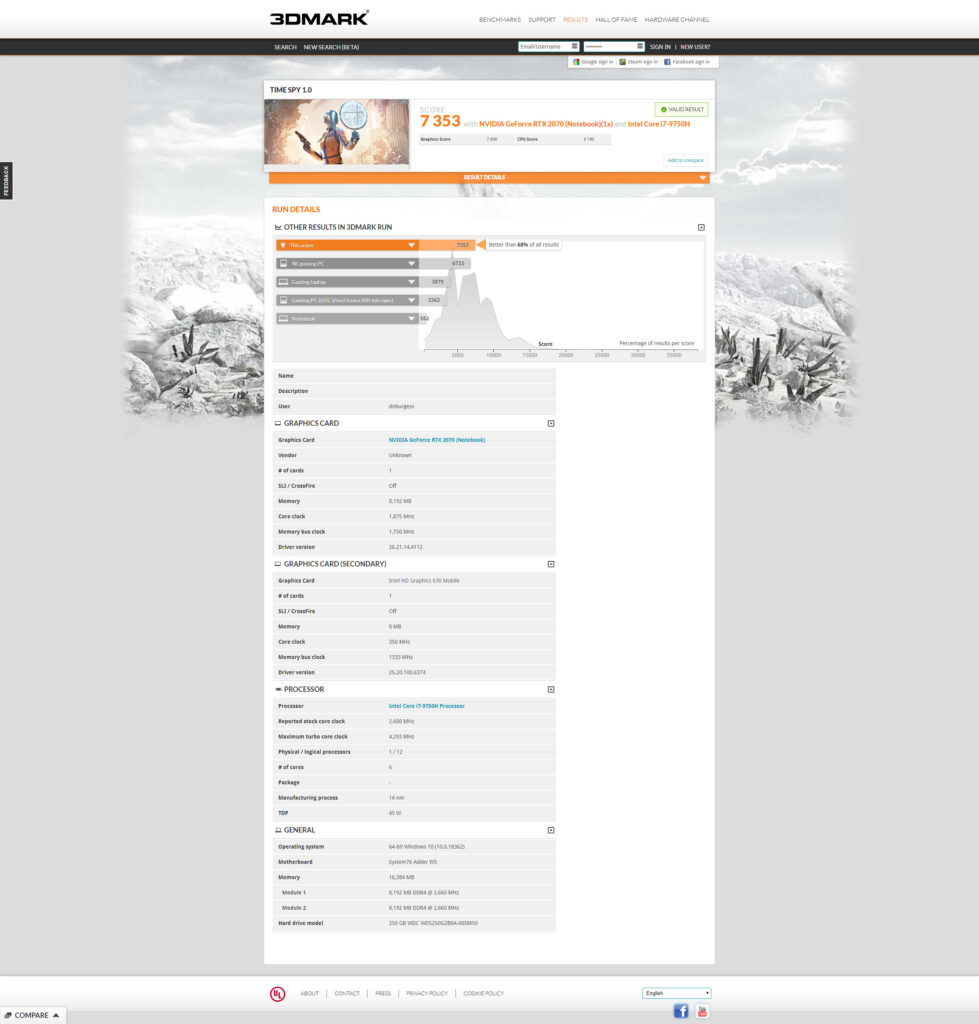 You can check out the official page here: https://www.3dmark.com/3dm/40784650?
It'd be great if you would check out System76 on their website and social medias:
Transparency
Just for transparency, System76 didn't pay me for these videos or reviews. They provided an Adder WS laptop for me to review and I'll be shipping it back (unfortunately). All of the opinions are mine and aren't influenced by System76.
Again, I want to thank System76 for letting me check out the Adder WS!
/=========================================/
Here's my Amazon Influencer Shop Link:
Amazon: https://dbte.ch/amazonshop
/=========================================/
Like what I do? Want to be generous and help support my channel? Here are some ways to support:
Patreon: https://dbte.ch/patreon
Ko-fi: https://dbte.ch/kofi
/=========================================/
Remember to leave a like on this video and subscribe if you want to see more!
/=========================================/
Follow Me:
Twitter: https://dbte.ch/tw
Facebook: https://dbte.ch/fb
Subscribe: https://dbte.ch/ytsub