In this video we're going to take a VERY quick look at how to install Lakka on a Raspberry Pi 4 for retro gaming.
What You'll Need
The process is actually super easy and only takes a few minutes. In order to do this, though, you're going to need a few things:
Raspberry Pi 3 or 4 with a proper power supply
Micro SD card – 8GB or more with USB adapter
Ethernet cable is preferable for network access
External USB hard drive that you're okay formatting / erasing
A Computer – I'm using a Windows 10 PC
SSH program like Putty
USB gaming controller
To get started, head over to the Lakka servers and download the most recent version of Lakka for the Raspberry Pi 4. It should look something like this: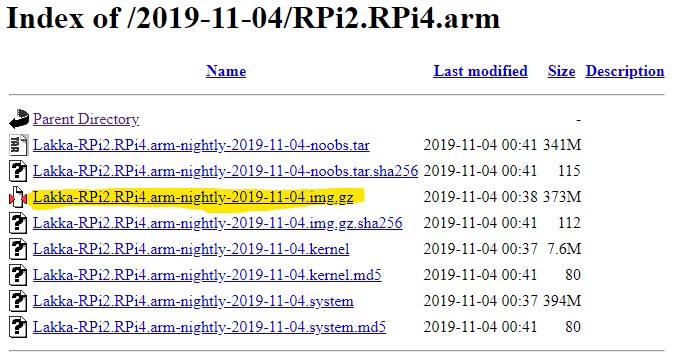 You'll also need to download Etcher and install it on your computer.
Installing Lakka
Next, plug in your micro SD card, open Etcher and copy the Lakka .img file to your micro SD card.
Once it's done copying the file over, unplug the micro SD card from your computer and plug it into your Raspberry Pi 4. This is also a good time to plug in your ethernet cable, display cable, game controller, and power supply.
When you power on the Raspberry Pi for the first time, it will go through a bit of a setup process and then reboot. After it has rebooted, be sure to go into "Services" and turn on Samba. Next, go to "Information" and go to "Network Information to get your Rasbperry Pi's IP address.
Now go back to your computer and open a file explorer window and type this into the address bar:
\\192.168.1.42 (replace the IP here with your actual IP address)
Then navigate to ROMS and copy over whatever ROMs you have on your computer to the correct folders on the Raspberry Pi.
Now you can go back to your Raspberry Pi with Lakka on it and start playing your favorite retro games!
Buy Parts on Amazon
Music
I want to thank AudioSprite for the music in this video: