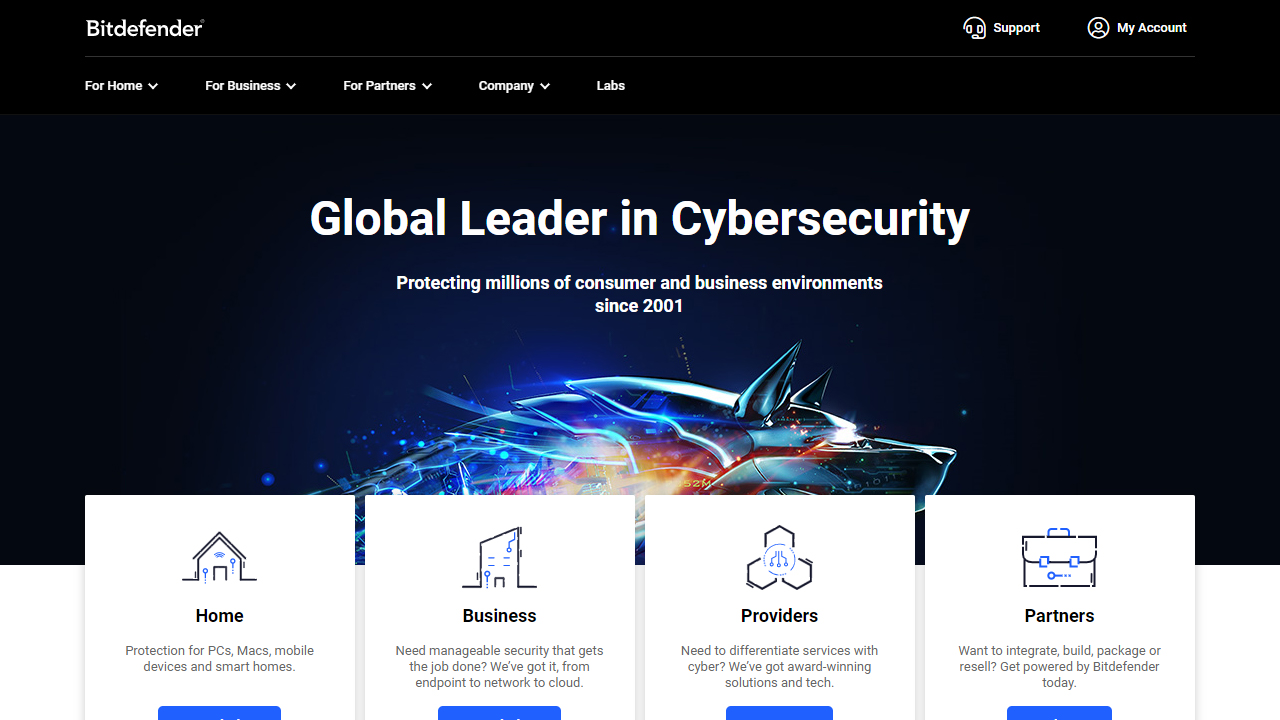 We spend a lot of time talking about self-hosting and security on my YouTube channel and this website. With new threats emerging online in record numbers, you can't be too safe when you've got devices connected to the internet.
That's why when I was approached to write about Bitdefender, it felt like a good fit. In this article, I want to look at a couple of Bitdefender products: their free antivirus and their VPN service.
Let's first take a look at their free antivirus.
U.S. News has named Bitdefender its top-rated antivirus software of 2021 for a good reason. Depending on which version of the software you get, you can do everything from basic antivirus protection to protecting your microphone and webcam from apps, viruses, or other services that might try to monitor and control them without your consent or knowledge.
The software can also help protect your devices from phishing attempts and spam, which are both super prevalent these days. Scammers are getting good at what they do, making it harder and harder to recognize a threat without a little technical knowledge or assistance.
The setup process for Bitdefender antivirus is about as simple as it gets. Download the file, open it, and progress through the different screens until the install is complete. Super simple.
Next, you'll need to either sign in to your existing account or create a new account.
During the sign-up/sign-in process, I noticed that if you use a password manager, you won't be able to paste your account password into the desktop application. I tried both CTRL+V as well as right-clicking with my mouse. Neither of them worked, so that's a bit frustrating. Maybe they'll see this post and make pasting possible.
Once you've got the free antivirus installed, you can run a full system scan, drag-and-drop a file into the interface, or click the "View offer" text in the bottom right to upgrade to a paid version.
A complete system scan might take a while, depending on your system specs and how many drives you need to scan. Either way, you can be more comfortable knowing that your system is protected against the newest (and oldest) threats out there.
As you would expect, Bitdefender also has a VPN service. You can try it free for seven days, and then, if you like it, you can get the full version and connect up to 10 devices.
They've got thousands of servers worldwide so that you can connect from tons of geo-locations for all kinds of different reasons. Maybe you want to price shop flights and see what types of deals you can get. Bitdefender's VPN also allows you to watch something that is geo-restricted to another country.
Of course, those are some of the things you might want to do with a VPN, but you can keep it simple too. You can also hide your online traffic from your ISP to keep them from throttling you. I love using a VPN to keep my online activity anonymous to help reduce tracking of my online activity and make it harder for advertisers to market to me based on said activity.
One of the most significant selling points, in my opinion, is they have a no traffic logs policy. They don't keep any record of your activity, so you don't have to worry about information leaks if one of their systems were ever compromised.
Both the antivirus and the VPN services from Bitdefender are available on Windows, Android, macOS, and iOS to keep all your devices (and your data) safe.
If you're interested in taking a look at either service, check out the links above and see how much Bitdefender can help protect your devices and your data online.
Note: This article is sponsored content, but I never produce sponsored content for companies I don't trust or don't believe in.