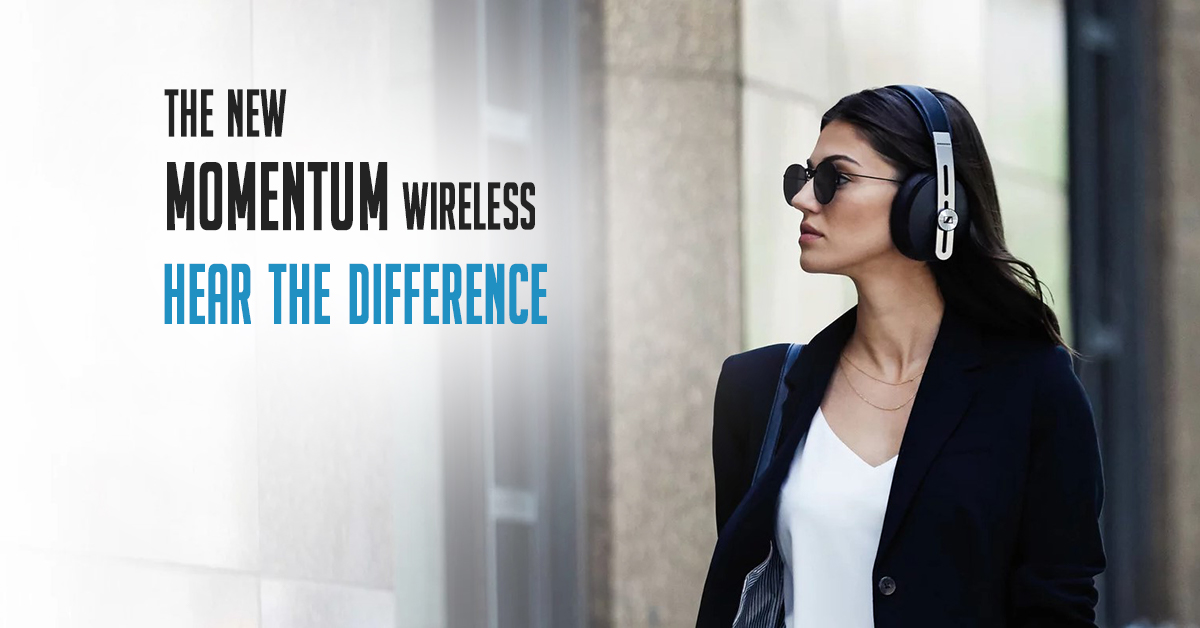 The new Sennheiser M3 Momentum Wireless Headphones is where intuitive design meets superior sound.  The Momentum headphones redefine your premium headphone experience with the balanced depth and precision of studio-quality sound in headphones that look and feel amazing. Also, Sennheiser is promising 17 hours of battery life on a single charge.
Colors
The MOMENTUM headphones come in two sleek colors: Black and Sandy White.
Soft Earpads and Headband
A genuine leather head strap and premium, plush ear cups deliver superior comfort for your head and ears to help you enjoy extended listening sessions.
Smart Control App
Using the Smart Control App, you can switch between Maximum Noise Cancellation, anti-wind, anti-pressure, or Transparent Hearing modes depending on your environment. Using the app, you can also adjust the EQ of the headphones and, as an extra bonus, they've integrated with a company called Tile. Think of Tile like LoJack for your headphones. This is a great feature if you're someone who often misplaces things. While the app isn't necessarily required, it does give you access to the full features of the headphones including the headphones' battery life.
Automatic Pairing Mode
Setting up the Sennheiser M3 Momentum Wireless couldn't be easier. The first time you turn them on, they immediately go into pairing mode to get you into your music even faster! These headphones use Bluetooth 5.0 firmware meaning you can connect them to multiple devices and you get a much faster auto-connect.
Auto On/Off and Smart Pause
Listening to music with the MOMENTUM wireless headphones is pretty slick with automated functionality. Just fold the ear cups, open or closed to turn your music on or off or remove your headphones to pause your music, and then put them back on to get back into the music.
Active Noise Cancellation (3 modes) and Transparent Hearing
MOMENTUM Wireless adapts to your environment the way YOU want wherever you find yourself, allowing you to experience your audio on your terms.  The advanced Active Noise Cancellation offers three modes (listed below) that are tailored to different environments.  With the Transparent Hearing feature, you can enjoy music while still being aware of your surroundings. With maximum noise cancelling turned on, you may get less than the advertised 17 hours of battery life, but just 10 minutes of charging yields up to 1.5 hours of listening.
3 Modes
Max: The Max mode offers Maximum Mode Cancellation. This is the ideal setting for situations like airplanes.
Anti Wind: Provides noise cancellation optimized for outdoors to get rid of the noise around you in every day situations.
Anti Pressure: Softer noise cancellation for at-home use that doesn't make you feel like your ear drums are being pressurized.
Simple Three Button Interface
The easy-to-operate intuitive 3-Button Interface means you can switch between your music and making calls in an instant, without needing to read the manual.  You can also activate Volume Control at the touch of a button and connect to your favorite voice assistant (Alexa, Siri, or Google assistant, for example) instantly.
What's in the box?
MOMENTUM Wireless Headphones
Audio 3.5mm cable to plug the headphones into your phone or other devices
USB-C to USB-A adapter
USB-C Charging cable
Soft-shell Case
Quick Guide
Safety Guide
The new MOMENTUM Wireless headphones make listening to superior sound even more seamless than ever.
When it comes to sound, image means nothing. Try the New MOMENTUM Wireless today!
Buy the MOMENTUM wireless headphones today: https://bby.me/3maau
Additional Resources
(Note: This post is sponsored by BestBuy) / #ad