Home automation should be easy and it is with Wyze plugs.
Even though Wyze is relatively new to the game of hardware and home automation, but they are already doing several things right:
1. Wyze products are easy to setup and use either with the Wyze app or with your favorite home assistant app like Alexa or Google.
2. All of Wyze's products are affordable. What's the point of having great products if only a few can afford them? Wyze seems to have thought of that.
These aren't the first Wyze products I've used. I also have a couple of Wyze cameras that I've used in other projects that you can check out here: https://dbtechreviews.com/2019/05/adding-cameras-to-motioneye/
Setting up the smart plug was super easy. Once just plugged it in, switched my phone to my 2.4GHz wireless network, and opened the app, I followed the directions there. The plug was up and running in just a couple of minutes.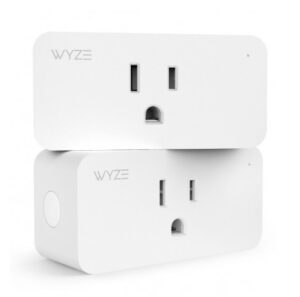 I did have a bit of an issue adding the plugs to my Google Home app, but after a bit of tinkering, I just disconnected my Wyze app from my Google Home app and then reconnected them. As soon as I did that, I was able to see and control the plug from both apps. Very exciting stuff.
Now I can say things like, "Hey Google, turn on the living room lamp." Or I can say, "Hey Google, I'm recording" and either of those will turn the light on for me.
Buy Wyze Products
The Wyze Smart Plugs currently come in a box of 2. Even better, that box of 2 plugs is only $14.99 when you buy directly from their website.
Wyze website: https://wyze.com/
Wyze Smart Bulbs: https://wyze.com/wyze-plug.html
If you want to buy Wyze smart bulbs from Amazon, well… You'll have to wait.
You can buy their cameras, light bulbs, and anything else the end up selling on Amazon by clicking this affiliate link: https://amzn.to/2nr6qOC
/=========================================/
Here's my Amazon Influencer Shop Link:
Amazon: https://dbte.ch/amazonshop
/=========================================/
Like what I do? Want to be generous and help support my channel? Here are some ways to support:
Patreon: https://dbte.ch/patreon
Ko-fi: https://dbte.ch/kofi
/=========================================/
Remember to leave a like on this video and subscribe if you want to see more!
/=========================================/
Follow Me:
Twitter: https://dbte.ch/tw
Facebook: https://dbte.ch/fb
Subscribe: https://dbte.ch/ytsub